Commercial Services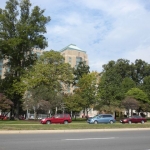 Growing Earth Tree Care provides arboreal services to homeowner associations, property managers, commercial properties, contractors and government agencies. Whether you need ongoing tree maintenance such as tree pruning, tree removal or pest control for your homeowner association or you need award-winning tree preservation on a new construction site, we are here to help. If it involves a tree, we have the ISA Certified Arborists who have the expertise to care for it.
You should be enjoying your trees, not worrying about them. Well-maintained trees not only increase property values, they provide health and environmental benefits that add substantially to the overall quality of life.
When an emergency strikes, you need fast and reliable service from professional arborists who have the training and experience to handle
any situation. Trees that are leaning or have fallen into buildings, wires or other objects can be extremely dangerous. Uprooted or broken trees can shift without notice, so it is important to keep people, especially children, out of harms
way. If you have a tree emergency, please call our offices at 703 818-8228. If it is after hours, the outgoing message will give you the number of the arborist on-call.